Description


.
ROGERS 65V-1 Integrated Amplifier
Powered by the customer's choice of output vacuum tubes, either (2) EL-34 or (2) KT-88, the 65V-1 integrated amplifier delivers ground-breaking performance and a remarkable listening experience. As with all Rogers High Fidelity's products, this Class A integrated amplifier offers superior precision, aerospace engineering and hand-made craftsmanship, resulting in a new level of realism in audio reproduction.
.

The user experience and ease of use is enhanced further with an iPad control app. Using a Bluetooth interface, the app displays your amplifier's output levels, using real time telemetry information. In addition, all features can also be controlled manually on the front panel.
.

The 65V-1 adapts to user preferences by allowing a choice of output tubes (either a pair of EL-34's or KT-88's) in addition to selectable triode and ultra-linear modes of operation. The 65V-1 uses innovative dual-drive class A design to provide the lowest possible noise and distortion. The result is the absolute finest tube sound quality, with three-dimensionality, subtleties and superior sonic dimensions that are both smooth and stunning.
.

The 65V-1 uses a toroidal power transformer as the heart of a massive linear power supply, paired with a separate low noise DC tube filament power supply to enhance the pure fidelity signal reproduction. The core chassis is made with heavy gauge aircraft grade aluminum; the chassis also features a large easy-to-read LCD display of unit status.
.

The 65V-1 has a dedicated headphone output circuit for optimum performance when using headphones.
.

All Rogers High Fidelity Products are built by hand one at a time, using all military grade components and Teflon coated point to point wiring!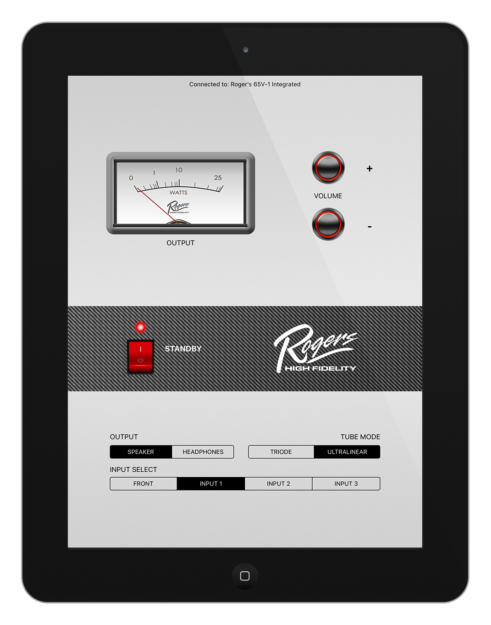 .
.
.