Description


.
ROGERS 65V-2 Integrated Amplifier
The 65V-2 is an upgrade to the critically- acclaimed 65V-1, and boasts these upgrades:
● CNC-milled Front Panel
● High-gloss Gold Fleck-Red powder coating
.

The 65V-2 is a Class A, single-ended design, all-tube integrated amplifier with dedicated headphone output. It's designed to use either EL-34 or KT-88 tubes with no adjustment or changes. Simply insert the tube of your selection!
.
The 65V-2 has a durable DuPont sintered gold fleck- red powder coat with clear gloss finish, set off by a solid billet aluminum front panel. The chassis is made with heavy gauge aircraft grade aluminum. An LCD display has a tube status indicator to automatically monitor tube bias and provide advance notice of the need of replacement.
.
The auto bias circuit allows effortless operation for the user. No adjustments are needed to get both long tube life and superior audio performance. Selectable audio modes of triode and ultra-liner operation provide flexibility to meet all system requirements and provide an enhanced sound stage selection.
.
The 65V-2 uses a toroidal power transformer as the heart of a massive linear power supply, paired with a separate low noise DC tube filament power supply to enhance the pure fidelity signal reproduction. The core chassis is made with heavy gauge aircraft grade aluminum; the chassis also features a large easy-to-read LCD display of unit status.
.

The 65V-2 has a dedicated headphone output circuit for optimum performance when using headphones. An available iOS app (compatible with iPad or iPhone) uses a Bluetooth wireless connection to enhance the user experience, smartly displaying the amplifier's output level using real-time telemetry information. All Rogers High Fidelity Products are built by hand one at a time using all military grade components and Teflon coated point-to-point wiring and carry a lifetime warranty.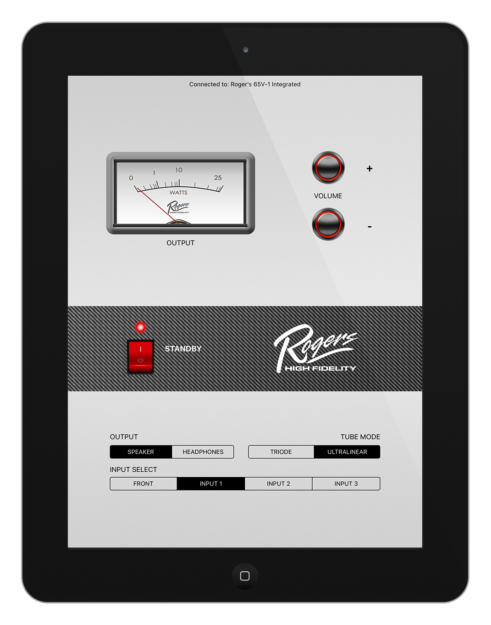 .
.
.