Thank you so much Cable Company for the tremendous review and the highest recommendation on our EHF-200 integrated amplifier. Rogers High Fidelity is thrilled to have its product reviewed with the highest performance sound in its market. Read the review below or here.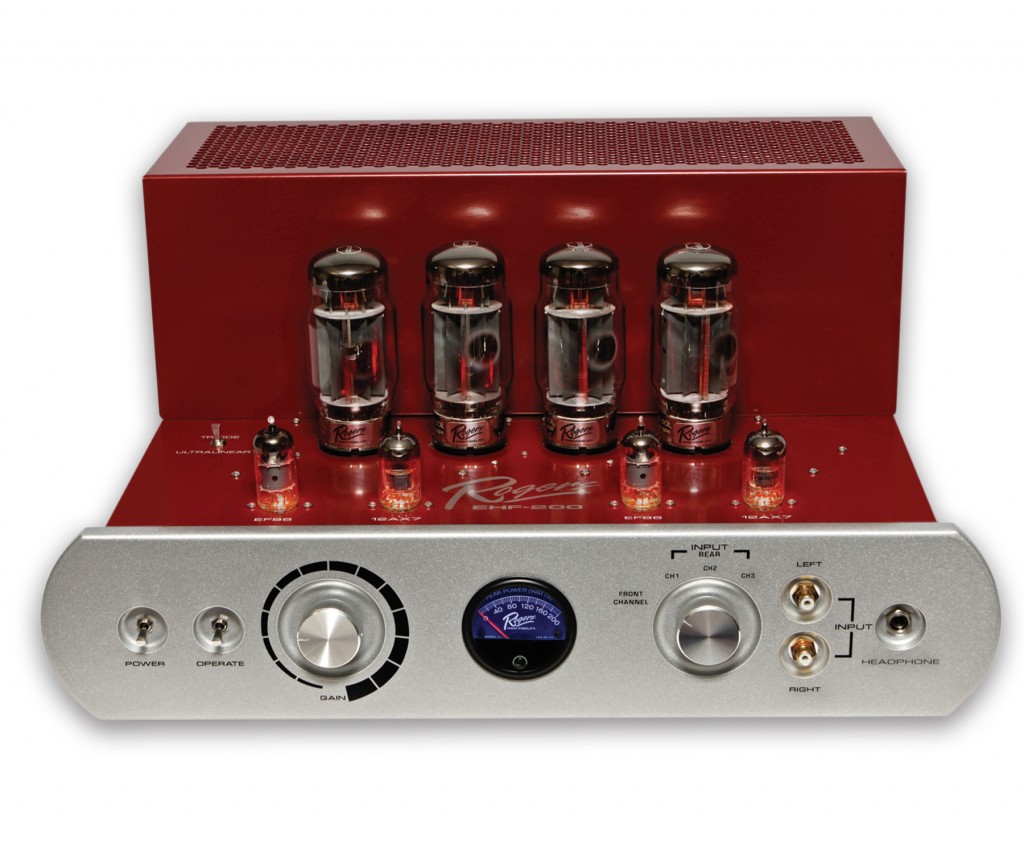 ___________________________________________________________________________________________
"We are smitten!
Although sometimes accused of being jaded (who, us?) because of all the great components and systems we hear, and all the shows we attend, on a rare occasion a new component comes along that makes us feel like first time "newbies."
Meet Rogers High Fidelity, a six year old company building amps and phono stages in New York State.
We will focus this time on just one of their products, their top-line amp called EHF-200. More on the other products later, we promise, but this integrated amp is so good it deserves special attention.
As you can see from the photo, this is a stereo integrated amp using 4x KT150 tubes for 200w peak current and 112w rms in Ultralinear Mode, or switch to Triode operation for 80w rms. With a giant toroidal power supply it is stable on the most difficult loads, yada, yada…
…what about the sound?
Magnificent! In fact we would contend that this is a true cost-no-object statement of the art in amplifier design and performance. Put it up against….anything!
The micro and macro dynamics are first class. Frequency extension is clear, open, and natural from top to bottom. Soundstage is huge, and images rock solid. The build is aerospace quality, in fact these amps come with a lifetime warranty.
Reservations? Other than certain functional limitations inherent in an integrated amp design as opposed to a separate preamp and amp, none.
There are two versions of this amp, the EHF-200 ($12900) and the EHF-200 Mk2 ($15900).
Both are the same amp and chassis, so both come with:
– an excellent high end power cord, 
– smart auto-biasing (tubes can be replaced individually if one tube fails),
– Ultralinear / Triode mode selectable on the fly,
– all point to point wiring, and built to order (2-3 week build time including 100 hours burn in and testing).
But for the EHF-200 the remote control is a $995 option, while this is standard on the EHF-200 Mk2, as are the following additions:
– one of the pairs of RCA inputs can be requested as a direct in to bypass the preamp section in the event you want to use this as a straight amplifier, rather than as an integrated amp,
– a special pair of RCA output jacks is configured specifically for subwoofer use.
Because the amps are built to order a certain amount of customization is also available – let us know if you have special requirements.
Take a look at the manufacturer's website for more info and some videos on the designer, the company, the parts they use, and their design approach. We have not seen any reviews in the press so far, but these will follow, you can be sure.
Summary:
For this level of performance, as far as we know, there is nothing to touch it at the price, and there may be nothing to beat it in absolute terms at ANY price. For a given system's requirements, sure, maybe something from Soulution, Constellation, D'agostino, Lamm, or Kondo will be a better choice for system matching reasons, but these comparison amps are many times the price.
Similar to these top shelf designs, the Rogers EHF-200 is built by a craftsman to his own highest standards. And similarly only time will tell if some or all of these are destined to be considered "classics."
But for now, be assured:
First Class. Highest recommendation.
We don't change our sound room references lightly, or very often. This is our new reference."
CLICK HERE TO LEARN MORE ABOUT ROGERS HIGH FIDELITY EHF-200