HifiSenses just wrote a wonderful article highlighting the Rogers High Fidelity EHF-200MK2 Integrated Amplifier.
The midrange was where the wonders are. The tube's capability of endowing realistic dimensionality was desirably demonstrated. Kasia Lins "Cover Me" was delivered with breathtaking vivaciousness that emotionally zoned me out for a moment. The voices were sweet and creamy, harmoniously blended with the details that were extended in the treble.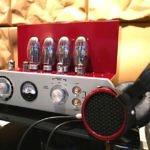 Introduction
In my audiophile journey, there was a period of time when I ventured into integrated amplifications. Considering it the most cost effective and space saving audio products that meet my budget and requirements at that point of time. The initial version of integrated amplifiers combined the pre & pro amplification in one body. But It gradually grew into multi features / functions integrated device with built in DAC, phonostages, WIFI, Bluetooth and many more.
Many consumers were then confused between an integrated amplifier with an Audio Video Receiver (AVR) as both are amplifier in principal function to drive loudspeakers. In terms of functions and features, the AVRs possessed abundance of them with other stuff like room correction, multi channel audio coding, video upscaler etc., with ability to perform not just stereo but home theatre multi channel amplification. All these made it pretty clear that the AVRs are more value for money comparatively for a new comer. However, despite that AVR is exceling in terms of multi features capability, their core amplification function is easily outshine by an audiophile grade integrated amplifier. That is why choosing a good integrated amplifier is so important in your line of audiophile journey and one should not be compromised with anything inferior, especially not audiophile grade.
Before we move on to the subject of today's review, I would like to thank Bobby from Audioline whom generously loan the equipment to hifisenses and made this review possible. He is a wonderful guy and came down personally with his assistant to setup the review items in my place. Kudos to his commitment and extended personal touch.
Design and Build
The Rogers Fidelity EHF200mk2 integrated amplifier is a tube amplifier supplied with quad matched KT150 output tubes plus 2 x EF86 and 2 x 12AX7 input tubes. Its Input connection come in 4, all in unbalance and has an output connection for the subwoofer. This integrated amplifier also allows you to bypass its internal preamplification stage and use it solely as a dedicated amplifier. On its front panel, you have a headphone input jack, which make this a dedicated headphone amplifier as well. A good feature for those who need personal aural gratification at late night without disturbing others.
The Rogers Fidelity EHF200mk2 can operate in either triode or ultralinear mode, depending on individual's preference. The unit runs pretty hot and definitely need ample headroom for ventilation. The Rogers trademark meter turns blue when powered up and it gave a grandeur feel together with its striking red chassis. The whole unit weighs a total of 28kgs mainly due to its large transformer housed on the rear of the device. Carrying them need some attention as the weight is lopsided on its rear, thus correct emphasize on handling is required.




Despite its striking red that shouts for immediate attention, beneath the chassis hides tour de force engineering that command equal appreciation. The whole amplifier works in Class A amplification plus auto bias capability. That means that the heat accumulated within is alarming high and will affect the components adversely. With regards to that, Rogers uses 18AWG military standard Teflon coating silver plated copper wire for all the internal wiring. The Teflon will not be damaged under prolong heated environment, proven in military test and that means better longevity of the components. Being a very particular person over heat impact on equipment MTBF, this added effort earns my utmost respect.
All the components used are of top grade and handwired directly for better reliability and serviceability. This enable Rogers Fidelity to honour a lifetime limited transferable warrant of their products. An icing that make your investment more worthwhile, not worrying the high depreciation of audiophile products. One of another thumbs up deal that Rogers contribute to this integrated amplifier is the power cable. Unlike conventional black power cord that many manufacturers throw in as a bundle, Rogers had supplied consumer with their proprietary Quiet Cable that comes with Furutech connectors and military standard Teflon silver-plated copper wire. Such attention to details makes me respect their commitment in providing the best without cutting corners.
Listening
The Rogers Fidelity EHF200mk2 was connected to both analogue and digital source with different genres of music playback. The listening review was conducted on both speakers and headphone demonstration, with type of music ranges from symphonic works, pop and jazz pieces.
Tube amplification has never failed to make it distinctively different from the solid state implementation. The Rogers EHF200mk2 presented a very clear top down tube sensation that I would relate to my first integrated amplifier, Octave V80. The KT150 gave me a very different sonic interpretation that I used to perceive. It was not as muffled and organic as I felt before, which surprises me in a good way as I recalled how I ditch KT150 for the KT120.




The treble delivery was definitely not edgy and surprisingly not muffled. Revelations in details was easily captured and that gave the symphonic works from Hans Zimmer's "Time" from the soundtrack of "Inception" a pleasant to listen without cranking the volume. Subtle entrée following complex execution of the piece were all present without being uncompromised.
The midrange was where the wonders are. The tube's capability of endowing realistic dimensionality was desirably demonstrated. Kasia Lins "Cover Me" was delivered with breathtaking vivaciousness that emotionally zoned me out for a moment. The voices were sweet and creamy, harmoniously blended with the details that were extended in the treble. This exceptional performance made listening of vocal pieces an edge compared with orchestral works.
Bass works are on a leaner side, not fat boomy like most tube amplifiers. Listening to the symphony bass performance generate coherency in overall tonal harmonization. However, listening to pop songs like Akon's "Beautiful", the essence of tight fast bass was amiss. This is especially obvious if you are a bass fan and been accumulating 80% of your listening time on such music genre. I would not say that this is a limiting factor for this amplifier; it's actually a common signature for all tube amplifications in my opinion.
Soundstage was great but I felt that KT120 output tubes would do a better job in my opinion. I didn't have a quad set to try thus readers can take it with a pinch of salt. Imaging was not razor sharp, that again I felt it's the characteristic of KT150 that exudes more warmth in overall holographic sensation. It would be better with different output tubes in my opinion.
On the settings of Triode and Ultralinear mode, I prefer Triode mode for vocal presentation and Ultralinear for symphonic / pop pieces. Not all music can benefit from these modes, and it really depends on one's preference in sonic presentation. However, this is a good add on feature, giving listener different options to try with.
Moving on to the headphone amplification side of review, a closed can Ultrasone Signature Pro and open can MrSpeakers Ether were use. Both cans received excellent performances, details and clarity was a notch higher than using loudspeakers. Especially on Ultrasone Signature Pro, the detail retrieval was distinctive and brought out more refinement in the songs. Soundstage was better on Ether then Signature Pro though but both performed equally well for the midrange delivery. One big difference I felt on the headphone and loudspeakers' presentation is the holographic, three dimensional sensation. I can't feel them in headphone implementation at all. Loudspeakers are still the best in provisioning a life like, at the venue impression comparatively.




Summary / Conclusion
Rogers EHF200mk2 tube integrated amplifier is one beast that I would not hesitate to recommend to readers. Aside from the excellent grade of material used and workmanship, the performance is top line and worth an audition if you are looking for your first or probably your last tube integrated amplifier.

Pros:
Well engineered from inside out
Lifetime transferable limited warranty
Robust and all rounded amplifier that can drive almost any load
Cons:
No balanced input
Chassis color finishes is either hate it or love it affair