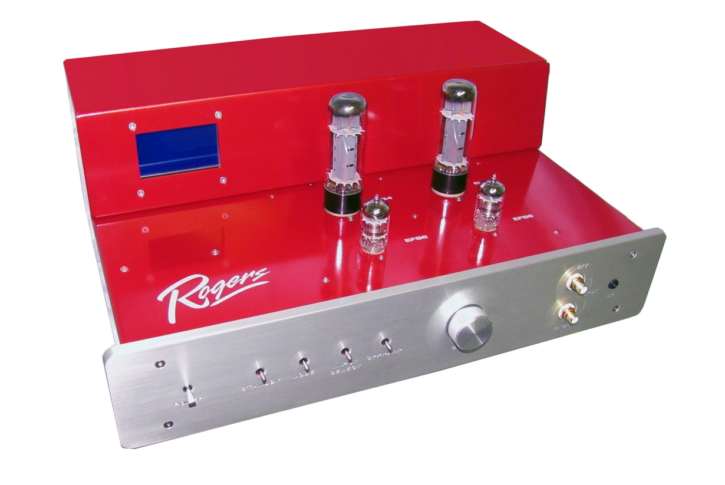 ---
We are very excited to announce the latest addition to the Rogers family, the 65V-2 integrated amplifier.  This amplifier is an upgrade to our critically acclaimed 65V-1 for those looking for a bit more.  Upgrades to the 65V-2 include:
DOUBLE the power output (50 WPC vs 25 WPC)

CNC milled front panel

High-gloss "Matador Gold" powder coating

iPhone and iPad control app

Automated tube bias monitoring
The 65V-2 has arrived for demo at our exclusive dealer for this product, Paragon Sight & Sound in Ann Arbor, Michigan.  It is also available for purchase online at ParagonSNS.com.

---
The Model 65V-2 is Class A, single-ended design, all tube integrated amplifier with dedicated headphone output that is designed to use either EL-34 or KT-88 tubes with no adjustment or changes. Simply insert the tube of your selection!
The 65V-2 has a durable DuPont exclusive sintered "Matador Gold" red powder coat with clear gloss finish and solid billet aluminum front panel. The chassis is made with heavy gauge aircraft grade aluminum. An LCD display has a tube status indicator to automatically monitor tube bias and provide advanced notice for replacement.
The auto bias circuit allows effortless operation for the user. No adjustments are needed to get both long tube life and superior audio performance. Selectable audio modes of triode and ultra-liner operation provide an enhanced sound stage selection.
The 65V-2 uses a toroidal type power supply and a separate low noise DC tube filament power supply, which enhances the pure fidelity signal reproduction. A dedicated headphone output circuit provides optimum performance during more intimate listening sessions.
An available iOS app (compatible with iPad or iPhone) uses a Bluetooth wireless connection to enhance the user experience, smartly displaying the amplifier's output level using real-time telemetry information.
All Rogers High Fidelity Products are built by hand one at a time using all military grade components and Teflon coated point-to-point wiring and carry a lifetime warranty.
---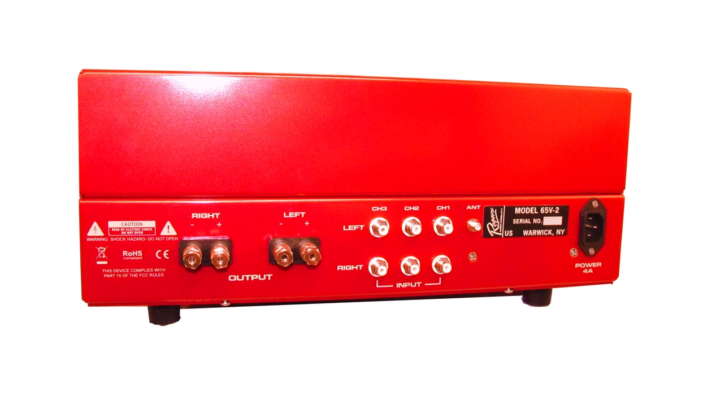 ---
FEATURES:
Made In The USA– Hand built to the most exacting specifications in our New York Facility. Each amplifier is shipped with a fully evaluated test data package so that the customer can see how his/her particular unit performed after acceptance.
(2) EL-34 OR KT-88 Tubes– Customer can select vacuum tube based on personal preference at purchase time
Completely Hand Wired– The entire amplifier is wired by hand using all discrete components and all point to point. All of the wiring and soldering meets the Military Standard 2000 requirements. All operators are trained to this standard.
Class A Operation– Military specification components, point to point Teflon wiring all carefully manufactured to the highest specifications.
Control Capability via Bluetooth– Connection to an Apple smartphone application, the 65V-2 displays on application control functions of all the amplifiers features: Ultra-linear and triode modes, Volume: Ultra-linear and triode modes, Volume, Input and the operational mode setting using a LCD screen with visual indicators.
Power Supply Circuit– Can easily handle large dynamic transitions in the audio signal being delivered while maintaining a smooth and clear midrange; vocals are presented with a truly rich and warm feel.
Auto Bias Circuit– For long tube life and ease of operation. Self Bias circuit for adjustment free operation and longest tube life. Customer does not need to adjust tube bias. As the tubes age, they adjust for bias changes automatically. The customer can change tubes at any time or replace a single tube rather than the full set and the amp will automatically re-bias for the change.
Aviation Grade Chassis– All amplifier chassis are aviation grade aluminum with a muti-phase powder coat and clear coat finish.
Aerospace Specifications– All resistors, capacitors, transformers, and inductive components meet or exceed the applicable military quality standards for parts selection.
Burn-In Process– Each amplifier undergoes a rigorous 100 hour burn-in prior to acceptance testing.
Power Measurement System– Each amplifier has a tuned, power measurement system that allows for flawless system integration and adjustment.
Binding Posts– Solid milled copper binding posts plated with gold create a seamless connection
Internal Wiring– The entire amplifier is wired using 18 gauge Military Standard 16878 teflon coated, silverplated copper wire. Because this is a Class A design, there is some heating of the unit that causes the wiring to age and degrade over time. Teflon coating prevents this and is designed to last for the entire life of the product.