Part Time Audiophile recently attended Axpona 2019 and published a Best of Show article which included Roger's High Fidelity.  Below is an excerpt.

Eric's Best of Show
Posted on May 8, 2019 by Eric Franklin Shook in Axpona 2019

---


CHICAGO (PTA) — Despite the sometimes overwhelming size that shows like AXPONA 2019 portray, for me this exhibition still represents the largest collection of small businesses I have ever seen under one roof. Most of the exhibitors are indeed "mom-and-pop shops". Most of these audio companies have only five to seven key employees, and often with a single figurehead wearing five of the most crucial hats within that company. Those being: the money, the designer, the face, the communicator, and the boss. Be these high-end wares and what they are, this is still a small-family-business expo. I say all of this, as a reminder. For as the shows grow bigger these facts will always remain about our industry, its people, and its key players. Act accordingly.

The Best of The Show
For one man to capture the entirety of a show the size of AXPONA 2019 is impossible. Even with a staff of five on hand this year, developing a consensus among the writers proves a challenge. That said, I bring to you one man's perspective. Of the forty exhibit rooms and booths I covered, these were the standouts. Enjoy!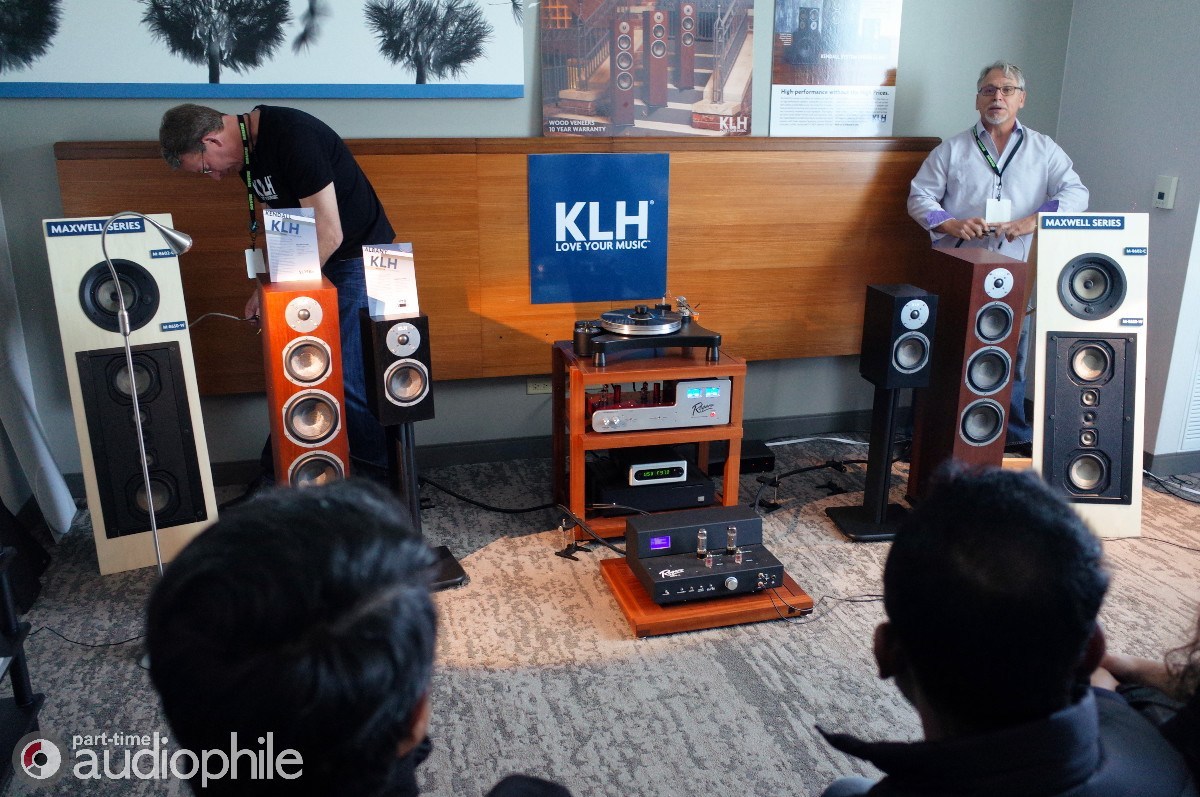 Of the new KLH's twelve in-room loudspeaker models in the product line-up, two were on active display at AXPONA. The new Kendall, a three-way tower loudspeaker — and the new Albany, a two-way monitor loudspeaker. As a nod to the KLH brand's history, each is named after a street in Cambridge, Massachusetts, the birthplace of KLH. Each was finished in a real-wood veneer as standard. Kevlar mid-bass and mid-range drivers abound, with anodized aluminum tweeters rounding out the top-end. Unheard of is a ten-year warranty on all of their passive loudspeakers. That is an insane amount of security for such a painless investment.
The Kendall tower loudspeaker garnered the most of my attention as it was able to flex all of it's best attributes with such capable amplification. Bass was deep, solid, tight, and not overblown. Mid-range had a bloom and tone that definitely exceeded the thirteen-hundred dollar asking price. Top-end was a little hot, but that's to be expected as the loudspeaker line-up is not just geared for two-channel listening, but home theater as well. I could even see myself enacting the often forbidden use of tone controls to tame the top-end during more critical listening.