Rogers High Fidelity uses yesterday's technology for audiophile performance by John Townes
---
In an era of digital technology and compact, ultra-portable audio devices such as cell phones and Bluetooth speakers, Rogers High Fidelity in North Adams produces a more traditional analog alternative. Rather than highly compact miniaturized circuitry, Rogers designs and builds high-end home and business audio equipment, including integrated amplifiers and pre-amps, that utilize vacuum tubes. Rather than highly compact miniaturized circuitry, Rogers designs and builds high-end home and business audio equipment, including integrated amplifiers and pre-amps, that utilize vacuum tubes.

"I've always enjoyed working with vacuum tubes, and I appreciate the sound quality they produce," said Roger Gibboni, founder and owner of Rogers High Fidelity. "The audio industry still has a love affair with vacuum tubes, and they never totally went away."

Vacuum tubes and analog technology were once the standardized basis of radios, computers, defense and space systems, and other electric products and equipment. They were ubiquitous in everything from home stereo systems to radar and other complex military applications. However, beginning in the 1950s and '60s, they were phased out and replaced by transistors and related solid-state and digital technology. Transistors served the same function as vacuum tubes, but they are much smaller and flexible. This also affected the evolution of the media that is used to record and reproduce content, and the replacement of vinyl record albums and magnetic tape with digital media including CDs, MP3 files and online streaming music. This led to today's high-tech electronics in which an iPhone can produce booming sound.

Nevertheless, while many casual listeners are content with the new generation of digital music, audiophiles believe that the difference in sound quality is significant. This has prompted a renewed interest in – and market for – products such as vinyl records and analog audio systems.

"Your ears are analog," Gibboni said. "Analog media and equipment are able to capture the original qualities of a performance more directly than digital."

Rogers High Fidelity products are aimed at the high-end market of dedicated audiophiles. The amplifiers range in price from $4,000 to $19,900. (They also have comparable pre-owned products that range from about $2,200 to $7,000.)

"They're not tabletop radios," Gibboni said. "Our customers are people who want the best sound possible. They also include serious audio hobbyists who are interested in equipment in the same way some people are serious about high-performance auto-mobiles."
.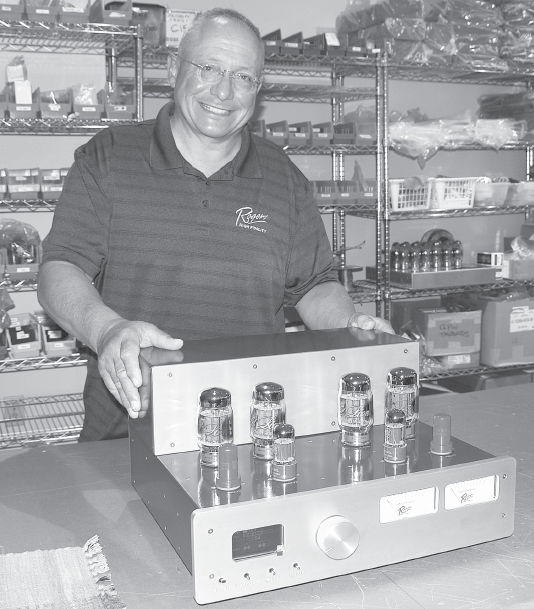 .
Gibboni launched the business in 2009 in Orange County, N.Y. He moved the company's headquarters to 10 Holden St. in North Adams in 2019.  The business still has sales offices in Hud-son, N.Y., and produces components in Orange County. Gibboni personally assembles the amplifiers in his North Adams workshop. The site also includes a demonstration listening room for potential buyers.

He said the company sells an average of 10 amplifiers or pre-amps per month. Each amplifier is individually assembled for an order.  Rogers High Fidelity equipment (845-987-7744 or rogershighfidelity.com) is primarily sold as a brand through a network of audio retailers.
"If someone calls us and wants to purchase a Rogers amplifier, we refer them to a dealer in their area," Gibboni said. "We are not retailers, although we will make exceptions if someone lives in an area where that is not possible."
Gibboni also recently opened an online store for pre-owned equipment.

He said the move of his company to North Adams was primarily driven by the desire of he and his wife to live in the Berkshires.  "It was a personal decision," he said. "We lived in Newburgh and had a summer home on Pontoosuc Lake in Pittsfield. About two years ago we decided to move to the Berkshires full-time, and it was possible to operate the business from here."

(His wife, Linda Dulye, organizes a millennial leadership program, the DLE Gen Now Retreat, along with other programs that are held locally. Her views on leadership and career development were featured in a Q&A in the September 2019 issue of BERKSHIRE TRADE & COMMERCE.)

Gibboni also believes that North Adams is a perfect symbolic location for his business. In addition to the region's association with music and culture, he said North Adams has another tradition as the former home of Sprague Electric from the 1930s into the '80s. Sprague manufactured capacitors used in radios and other technologies and products. Although his one-person workshop and office is on a very different scale than Sprague in its heyday, Gibboni said Rogers High Fidelity is a continuation of that tradition.

"North Adams has a history of manufacturing quality electronic products, and many people from outside the region are familiar with that, " he said. "I still believe that industry can be profitable, and I'm proud to be making an American product here."

Like all businesses, Rogers High Fidelity was affected by the COVID crisis. However, Gibboni noted, the nature of his operations did not require a significant closure or curtailment of activities. He added that the demand has remained strong despite an initial jarring.

"When COVID first emerged, the phones immediately stopped ringing," he said. "However, business gradually started in-creasing again, and now we're busier than ever. I think as people are staying in more, they're making investments to improve the environment of their homes."
Rogers High Fidelity grew out of Gibboni's combined background in business and technology, as well as manufacturing processes. He said it also reflects his combined interest in audio systems and analog technology. He has bachelor and master's degrees in electrical engineering from Drexel University in Philadelphia. He also completed business studies at the University of Pennsylvania's Wharton School.

For much of his career, he led teams that designed and manufactured high-tech communications and radar equipment for the Department of Defense, NASA and other agencies. He started as a design engineer for satellite communications programs with General Electric. He then moved to RCA, designing and manufacturing satellite ground terminals, Navy Aegis radar, secure communications equipment and the communications and tracking suite for the NASA Space Station. He subsequently spent 11 years as owner and president of New York-based Walden Printing Co.

When he was planning Rogers High Fidelity, his intent was always to work with analog audio technology and vacuum tubes. On a technical level, according to Gibboni, vacuum tube circuits and amplifiers have clipping and saturation characteristics that produce harmonic content differently than transistor solid-state devices. Tubes are also electric field devices rather than current devices and reproduce thermal noise in a truer fashion with more dynamic sound and richer detail. While transistors and solid-state technology have eclipsed vacuum tubes, their continued survival reflects an ongoing dichotomy in the world of audio reproduction.

Despite the convenience and other practical benefits of digital media, it has been a double-edged sword in terms of sound quality of equipment. In addition, the processes that produce digital music often use methods of compressing the audio information to enable it to fit within a reasonable file size or to efficiently travel online for streaming.

Gibboni pointed out that sound quality is a matter of individual preference. "Music is a very subjective experience," he said. "It's like wine. You might respond to what you hear in one way, while someone else will respond differently."

Gibboni said equipment such as Rogers amplifiers are designed to faithfully reproduce the characteristics of whatever audio signals are input to them. In addition to using traditional analog turntables and vinyl albums, people also plug in digital sources such as cell phones and MP3 players.
.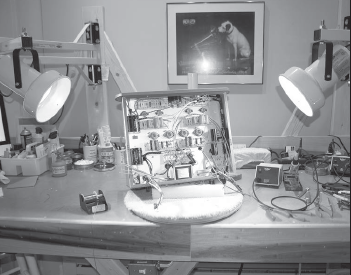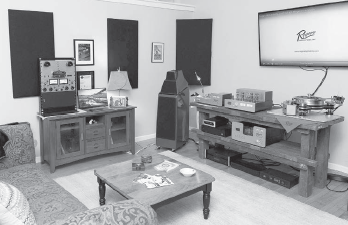 .

"Our amplifiers are often used in a situation where Dad has an audio system for his own enjoyment, while his daughter can also hook up her iPhone to hear her favorite song over it," he said.
The amplifiers also are the center of home theater systems.  Gibboni noted that improvements are being made in the quality of digital media.
"For example, there are streaming services, such as Tidal, that have developed high-efficiency analog converters that are intended to recreate the quality of analog media."  From a production standpoint, even though the market for vacuum tubes is much smaller today, they continue to be available, in part because of a historical quirk in the evolution of electronics.

Today, Russia is a primary source of new vacuum tubes.

"As the United States began to move away from vacuum tubes for military and consumer applications, Russia was not able to keep up, and continued to rely on them," Gibboni said. "As a result, they never stopped making tubes, and became a leader in manufacturing and developing them. For example, when RCA shut down their vacuum tube production, Russia producers bought their tooling."

While Russia is a major source of tubes today, other countries, including the Czech Republic and China, also manufacture them.

"China has also gotten into it, but their products are less reliable," he said.

In addition, there continues to be a stock of vacuum tubes that were made in America earlier. "It's new-old stock," Gibboni said. "The tubes are older, but they are still capable of quality performance."

While the technology and dynamics of the audio equipment market are complex, the ultimate goal of his company is straightforward, according to Gibboni. He described its credo as boiling down to two basic principles.

"What you make people feel is as important as what you make," he said. "Also, we build each amplifier so that your kids will fight over it when you're gone."