Part Time Audiophile recently attended Axpona 2019 and published a Best of Show article which included Roger's High Fidelity.  Below is an excerpt.
Eric's Best of Show
Posted on May 8, 2019 by Eric Franklin Shook in Axpona 2019

---

CHICAGO (PTA) — Despite the sometimes overwhelming size that shows like AXPONA 2019 portray, for me this exhibition still represents the largest collection of small businesses I have ever seen under one roof. Most of the exhibitors are indeed "mom-and-pop shops". Most of these audio companies have only five to seven key employees, and often with a single figurehead wearing five of the most crucial hats within that company. Those being: the money, the designer, the face, the communicator, and the boss. Be these high-end wares and what they are, this is still a small-family-business expo. I say all of this, as a reminder. For as the shows grow bigger these facts will always remain about our industry, its people, and its key players. Act accordingly.
The Best of The Show
For one man to capture the entirety of a show the size of AXPONA 2019 is impossible. Even with a staff of five on hand this year, developing a consensus among the writers proves a challenge. That said, I bring to you one man's perspective. Of the forty exhibit rooms and booths I covered, these were the standouts. Enjoy!
Of the new KLH's twelve in-room loudspeaker models in the product line-up, two were on active display at AXPONA. The new Kendall, a three-way tower loudspeaker — and the new Albany, a two-way monitor loudspeaker. As a nod to the KLH brand's history, each is named after a street in Cambridge, Massachusetts, the birthplace of KLH. Each was finished in a real-wood veneer as standard. Kevlar mid-bass and mid-range drivers abound, with anodized aluminum tweeters rounding out the top-end. Unheard of is a ten-year warranty on all of their passive loudspeakers. That is an insane amount of security for such a painless investment.
The Kendall tower loudspeaker garnered the most of my attention as it was able to flex all of it's best attributes with such capable amplification. Bass was deep, solid, tight, and not overblown. Mid-range had a bloom and tone that definitely exceeded the thirteen-hundred dollar asking price. Top-end was a little hot, but that's to be expected as the loudspeaker line-up is not just geared for two-channel listening, but home theater as well. I could even see myself enacting the often forbidden use of tone controls to tame the top-end during more critical listening.
Part Time Audiophile recently attended Axpona 2019 and published a review of the Paragon Imagination Room, in which Roger's High Fidelity products were on display.
Posted on May 7, 2019 by Lee Scoggins in Axpona 2019

---

Paragon Sight & Sound had a second room that kind of caught me off guard.  Rogers High Fidelity electronics were featured with Wilson Audio Alexia 2s ($57,900).  Here's the cool part.  Everything was red!  Paragon mated some gorgeous red Alexias to the red of the Rogers electronics and then Garth Leerer added in a Clearaudio Ovation table ($6,200 and up) with a red plinth!  A very distinctive looking system!
The analog rig was really wonderful.  It featured a Clearaudio Jubilee moving coil cartridge ($6,000) that uses Panzerholz wood, a product used for things like bulletproofing cars.  This cartridge's body is made from this wood that involved 70 layers of Baltic birch being super compressed.  The lend stability to the cartridge.  Garth mentioned the resulting low q and broadband phase coherence.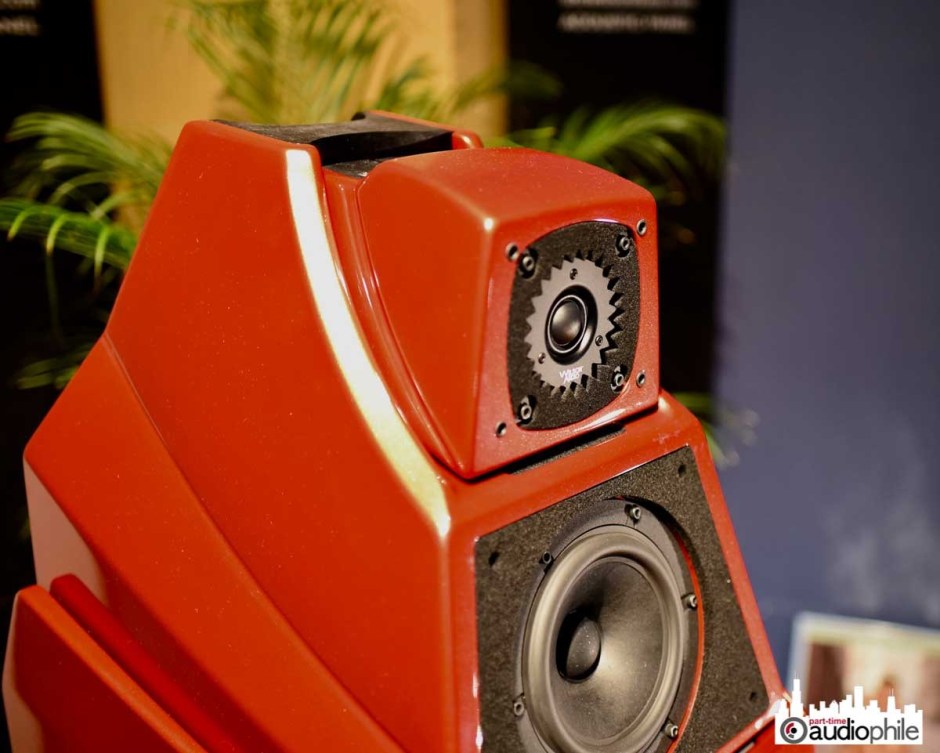 We listened to Shelby Lynne's "Just a Little Lovin'". It sounded great with beautiful detail on the cymbal decays.  The Ovation and Jubilee combination was dynamite!  "Poetry Man" by Phoebe Snow was also terrific with Phoebe's voice rendered perfectly.  This was in fact an overall smooth and natural sounding system.  We heard the deep bass plucks on Rickie Lee Jones' "Show Biz Kids" portrayed with depth and tightness on the two big Alexia woofers.  This song is a demo cut for friends that come over to visit and it reminded me a bit of the home system.  The Alexias were able to fill a rather large ballroom.
We listened to Malia and Boris Blank's "I Feel It Like You" from the Convergence album via the always wonderful dCS Bartok DAC.  I love the upbeat nature and "bounce" in this cut and the Bartok was capturing everything I have been hearing on the home system.  The Alexia 2s are quick and dynamic!  The system was described in my notes as having "punch and power."
But let's talk gear for a second…Rogers brought out a cool new KWM-88 "Corona" amplifier ($13,999) that can be operated by a remote app.  Welcome to tubes in the future!  The app can control all the features of the amp and it let's  you go from Triode to Ultralinear mode with a tap.  Cool stuff.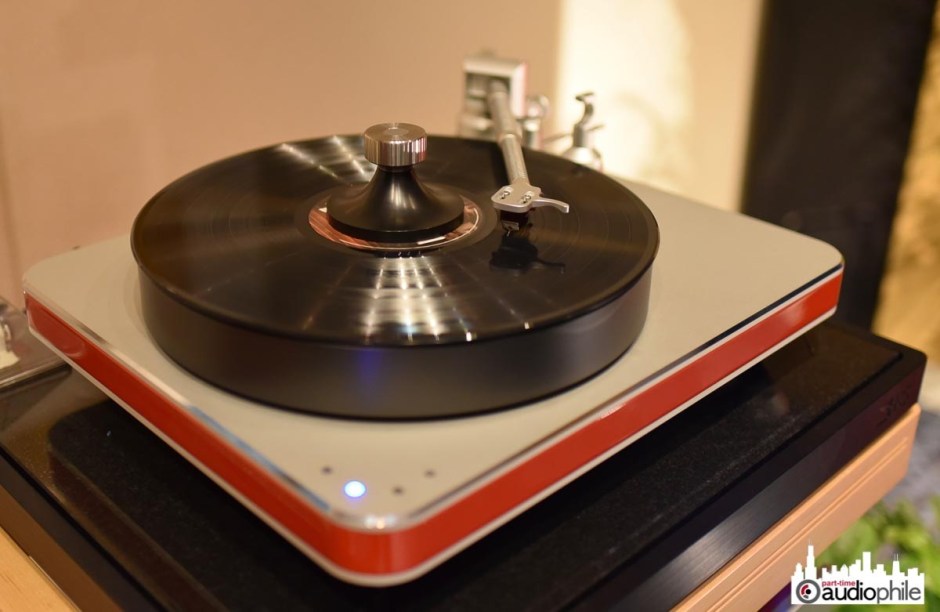 The build quality of the Powered by four KT-150s as shown (you can also do KT-88s), it was working the Alexia 2s with precision.  In the Rogers' own words…
The Corona flexes these dynamic features:

KT-88 or KT-150 tubes—four total/two each channel and four total for stereo operation following a true dual mono design

Class A operation, military specification components, point to point Teflon wiring all carefully manufactured to the highest specifications

Control capability via Bluetooth connection to either Apple iPhone or iPad applications, the Corona app displays all control functions of all the amplifiers features: Ultra-linear and triode modes, Volume, Input and the Status of the power tubes in real time operation using visual indicators.

Toroidal type power supply circuit can easily handle large dynamic transitions in the audio signal being delivered while maintaining a smooth and clear midrange; vocals are presented with a truly rich and warm feel.

Auto bias circuit for long tube life and ease of operation.

One piece billet aluminum front panel, aviation-grade quality chassis all made in the USA in Warwick, NY

Lifetime transferable warranty.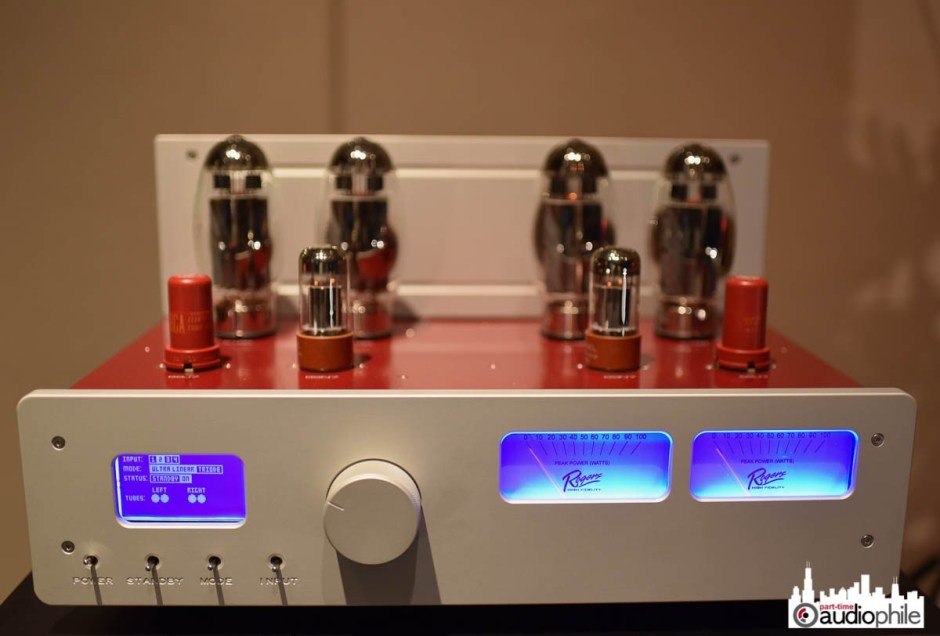 The power transformer on this amp alone was 30 pounds!  Now we would not have gotten the sublime analog sound without the Rogers Fidelity Phono Stage PA-2 amplifier.  Rogers seems to be operating on a very high plane when it comes to build quality.  The PA-2 is all hand wired, point to point.  Mil-spec parts quality and it meets mil-spec 2000 soldering quality.  It's a full Class A design and you can tube roll with 12AU7, 12AX7, and 12AV7 vacuum tubes.  Gain varies between 50db and 65db. Loading can be varied between 100 ohms and 1 Meg ohm.  Signal to noise is 90db and channel isolation is at least 75db. Fit and finish were stellar.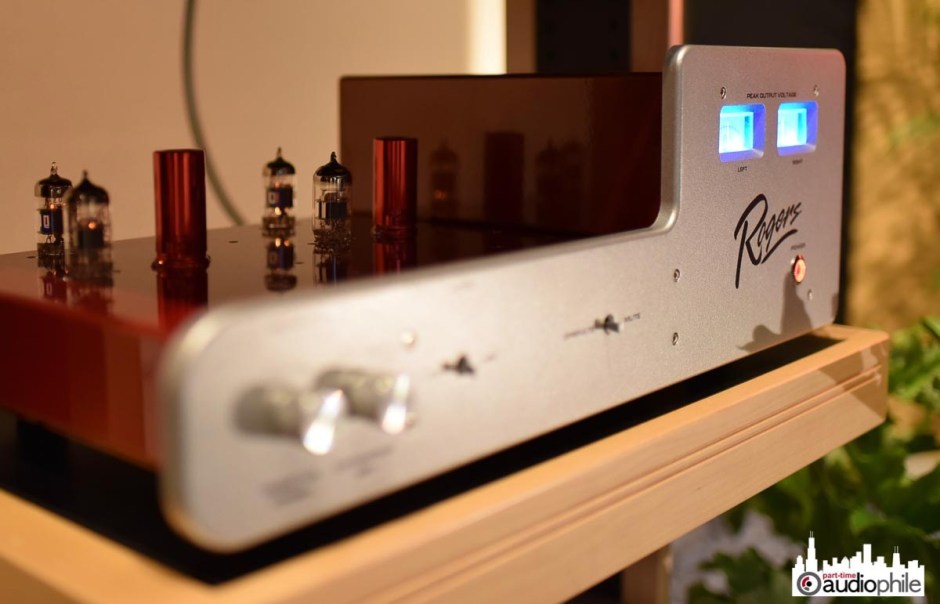 Rogers also had their great sounding 65v2 headphone amplifier ($4,999) on display outside the room with Focal Utopia and Stella headphones.  Transparent Cable supplied their Reference series of cables including their power isolator.  These cables no doubt matched up well with the Alexias given that Transparent supplies the internal wire for Wilson Audio speakers.
This was simply an excellent-sounding and attractive to look at system.  Congratulations to Paragon, Garth and Roger!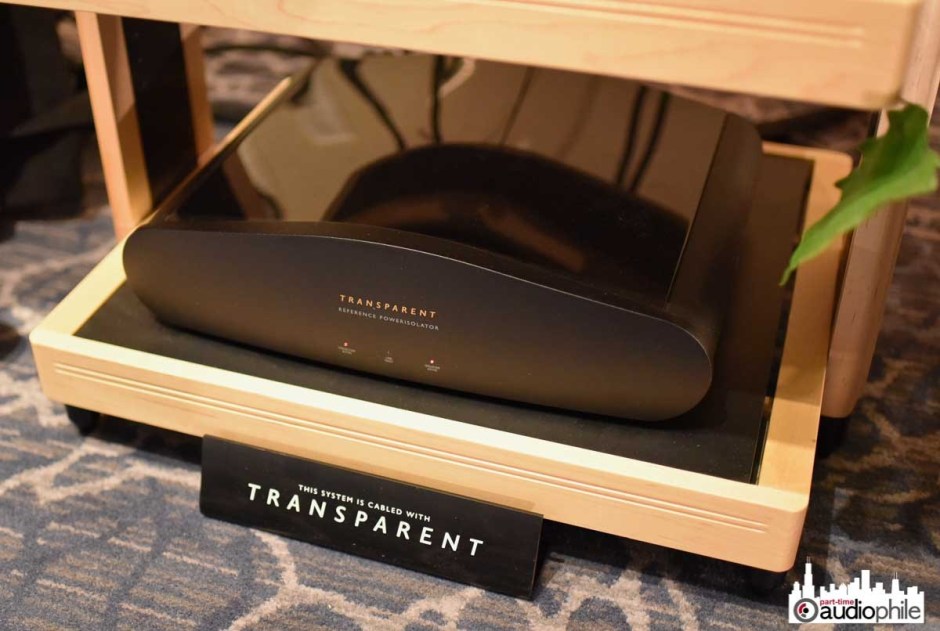 AXPONA 2019 Show Coverage brought to you by the LSA Group